These products, often outsourced to multiple third-party vendors, are all part of one streamlined system with Back At You:
Paperless / Document Management
An all-in-one solution designed to make teams more efficient, improve office communications, streamline operations and reduce operating costs. On average, teams report eliminating 3-4 third party contracts upon launching Office.
Lead Management & Routing
All leads are not created equal. Office allows you to determine which agents are eligible for specific lead sources, manage referrals generated from team advertising and coach agents with lagging response times.
Print Marketing
Choose from professional designs featuring agent and company branding to give your listings the presentation they deserve. Plus, easily send listing postcards to your contacts or the neighborhood.
Cloud-Based Document Library
Unlimited document storage for your team and private, personal storage for each individual agent. All accessible anywhere with internet access via the cloud.
CRM
Our integrated CRM makes it easy to associate listings with sellers/buyers, market new listings to likely prospects and follow the first contact through to closing. Streamlining your business into one platform is no longer impossible – it's here.
Open House Tools
Use digital sign-in pages at your open houses to ensure accurate, legible contact info added directly to the CRM. Plus, schedule, promote, and host Virtual Open Houses so buyers can tour listings from home.
Transactions
Gain visibility into your team's financials, create a workflow for transaction management and use compliance checklists to keep your team on track.
Calendar / To Do
Manage multiple calendars and action plans where scheduled follow up, agent training and special events are tracked in a single platform.
Showing Management
Need a private portal to manage showings? Use our team-branded portal with in-house showings or agents outside the team.
Email Marketing
Monitor open rates to prioritize content while we manage your Do Not Send list to keep you within federal guidelines.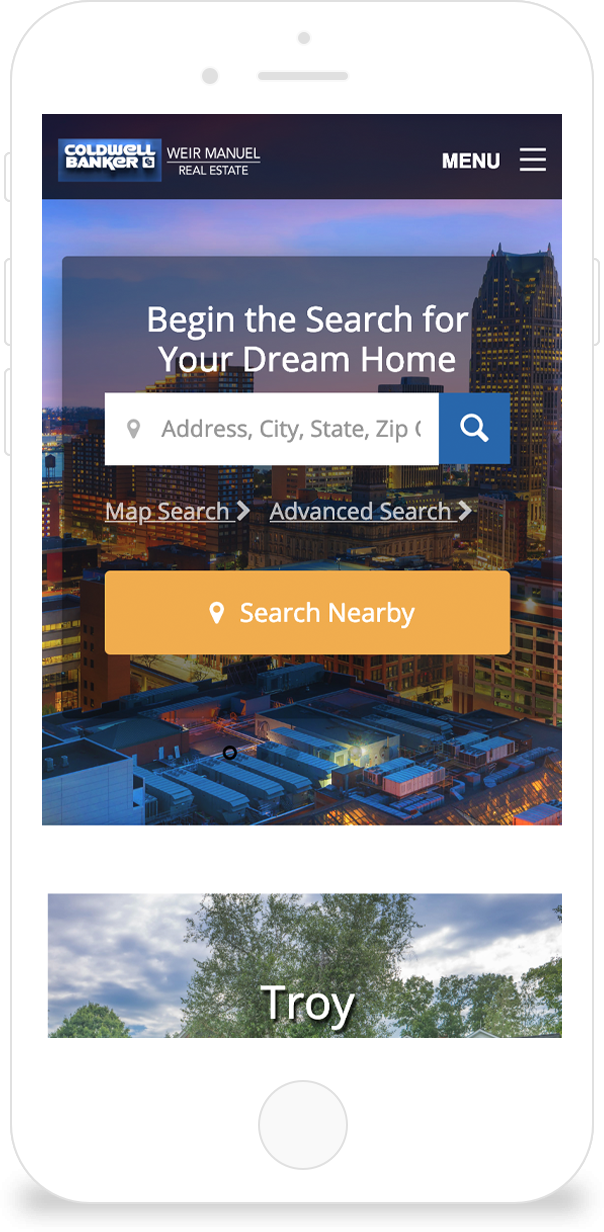 More than a lead engine, your website is an extension of your team that develops valuable relationships over time, serving to increase market share as well as agent recruitment and retention rates.
Visual Editing
Take total control with our visual website editing tool which gives you the option to change videos, photos, text, add custom landing pages or transition to a new website design completely. Your team, your site, your call.
Community Pages
Leverage our dynamic pages to showcase your market knowledge about the area, segment listings to areas of interest and search by price.
Buyer Portal
Create an online portal for active buyers where they can create searches with enhanced criteria, save listings and watch our system communicate their activities to the agent.
Seller Portal
Create an online portal for sellers to keep up-to-date on website views, changes to competitive listings and completed action plan items
Blog Platform
Our integrated blogging tool makes creating posts for your team and agents' websites a breeze.
Lead Capture
Set registration requirements based on source of traffic, like pay-per-click, number of visits, or listing views.
A holistic approach to social media marketing that takes the necessary, tedious tasks off your team's plate while allowing all members to reap the rewards of an active, engaging social presence.
Automated, Targeted Exposure for Listings
When agents on the team get a new listing, our Social Media Center immediately creates a dedicated website for it and promotes it on Facebook, Instagram, Twitter and LinkedIn. They don't need to do a thing!
Customizable Lead Gen Landing Pages
Capture leads at every turn with mobile-optimized landing pages that can be customized and leveraged in a variety of ways.
Expertly Tailored Facebook Advertising
Our Ads Team will launch a hyper-targeted ad campaign to deliver you a stream of seller leads month after month.
Content That Starts Conversations
Our ever-growing content bank contains thousands of pieces in 50+ categories of market data, videos, branded blogs, and more. Get exposure for your brand without appearing automated!
A back-office solution designed to make companies more efficient, improve office communications, streamline operations and reduce operating costs. On average, clients report eliminating 3-4 third party contracts upon moving to office.
Print
Our targeted, direct mail marketing platform provides easy online ordering, visual editing and secure payment. Order postcards for your custom team designs directly within our system and have them delivered.
Voice
Capture buyer leads at the source: Listings' physical locations. Our lead call capture system provides your clients with on-demand, phone-based listing details available 24/7.
SMS
Go beyond just one listing! Allow clients to text a number and instantly find additional listings nearby. Plus, use mass texting to reach agents and staff within your team for key reminders.
Virtual Tours
Team-branded virtual tours connect listing photography with graphics promoting the features, schools and listing agent. Choose from a professional voiceover with custom property description or set videos to music.
"[It's] a great 'Broker Solution'. They have been great to work with the past two years. As an Independent Broker, this levels the playing field for your agents and your firm with the 'big box' firms. The system is constantly being upgraded with more enhancements. You would have to cobble together at least 6 other systems to do what this one does now. Here is the bottom line-- 'they get it'."
—John Rainville, Brokers Realty
"We vetted many service providers and took our time until finally going with [them] and we could not be more pleased. They are truly a one-stop shop for a website and company Intranet not to mention agents' personal websites, transaction management, CRM, marketing, lead management and company recruitment."
—Tim Milam, Coldwell Banker Sea Coast Advantage